NCrypted Video Reviews, Client Testimonials (2)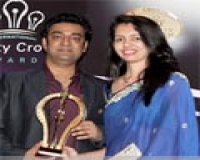 NCrypted at the International Quality Convention, London 2012
Kunal Pandya and Purvi Pandya of NCrypted receiving the International Quality Crown Award (IQC) 2012 and flaunting the Quality Crown 2012 London trophy! The recognition has been honored to NCrypted and the team by B.I.D. for the on-going Global Customer Satisfaction, Commitment to Quality and Excellence in Business Innovation.
BID IQC International Quality Crown Award (2012) awarded to NCrypted Technologies in London
This year's BID International Quality Crown Convention was hosted in the grandiose city of London. Overlooking the River Thames, professionals and business leaders from 48 countries gathered to recognize each other's achievements and successes of the year. In particular, the convention celebrated quality in business. A key requirement of being considered for the award is a full commitment to the criteria of the QC100 TQM model, which ensures customer satisfaction and efficient processes at every level of the business.