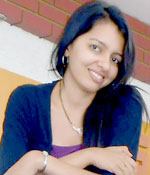 Chief Technology Officer
Purvi Pandya is working with NCrypted Technologies as CTO since January 2012. After completing her graduation in computer engineering, she worked with Infosys Ltd., an Indian global technology services company as a senior software engineer for 3½ years. She also has a work experience with Essar Information Technology Ltd. as a lead technical consultant for a period of 1 year. With all the necessary experience in the technical field, now she is working with NCrypted Technologies and offering her valuable services to the company. Purvi's role in the company is to assure the successful execution of the company's business mission through development and deployment of the company's web presence. This requires envisioning the company's service offerings as a web-based business, leading implementation of web applications, and planning for risk and growth.
Purvi Pandya (CTO - NCrypted) receiving the International Quality Crown Award
BID IQC International Quality Crown Award (2012) awarded to NCrypted Technologies in London
This year's BID International Quality Crown Convention was hosted in the grandiose city of London. Overlooking the River Thames, professionals and business leaders from 48 countries gathered to recognize each other's achievements and successes of the year. In particular, the convention celebrated quality in business. A key requirement of being considered for the award is a full commitment to the criteria of the QC100 TQM model, which ensures customer satisfaction and efficient processes at every level of the business.