General Manager (Projects)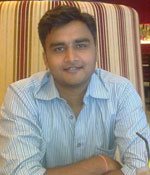 Amit Thaker is working with NCrypted Technologies since December 2009. He was serving as a Project Lead in the company till August 2016 before getting assigned to the senior managerial position of General Manager. Amit has done his graduation in computer engineering and since then he is working with the company. As a GM (Projects) he ensures the general administration of the overall projects, especially group dynamics, learning programs and relations with the clients and company's internal community. His role in the company also involves assisting in the planning and management of the workload, managing the development teams and coordination of technology-based projects as well as supervising project managers.
Having difficulty submitting this request? Contact sales@ncrypted.com for a prompt response.